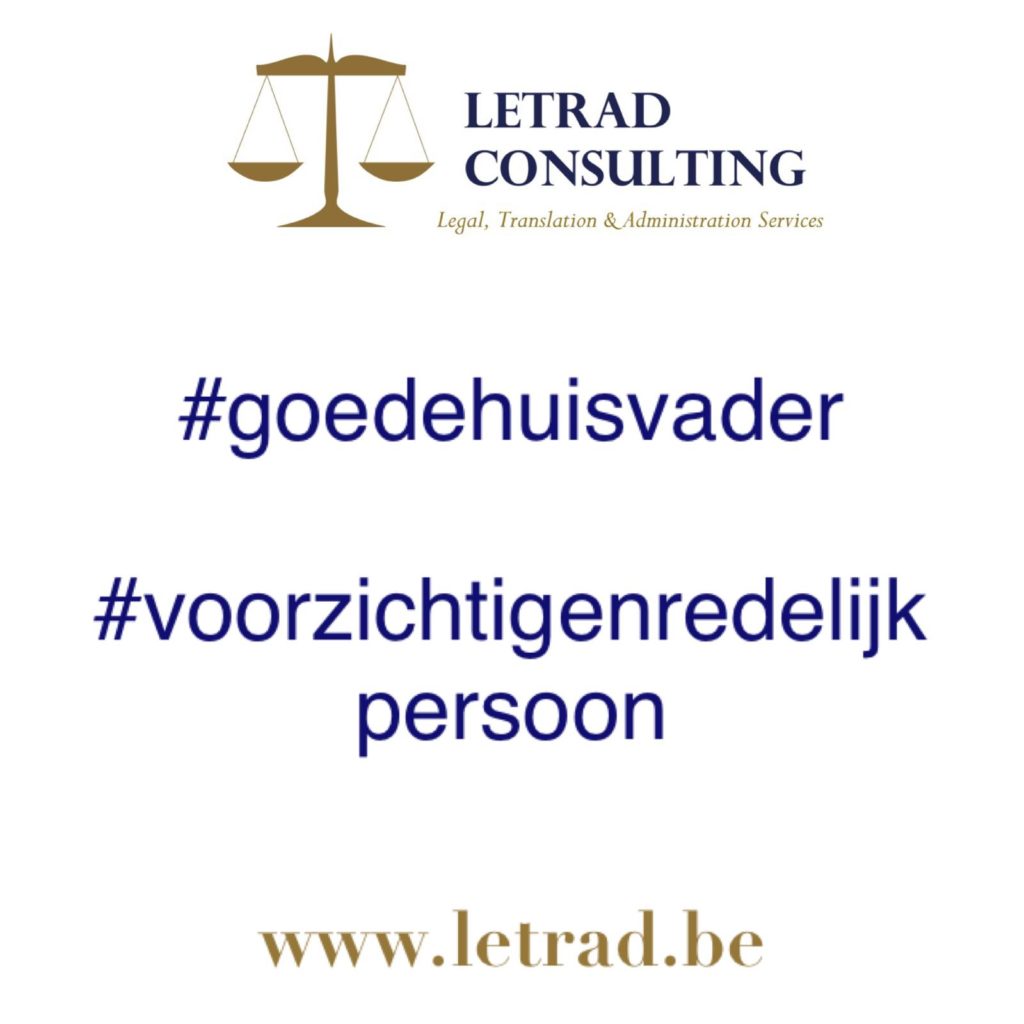 We hadden het eerder deze maand al aangekondigd op social media of je hebt het zeker zien passeren in de media.
De term "goede huisvader", of de bonus pater familias, zoals het ook meestal wordt genoemd in de juridische wereld, wordt geschrapt uit het Belgisch recht. Het is eerder ook verdwenen uit het Frans recht in 2014 om dezelfde redenen, om de gendergelijkheid te bevorderen.
Het begrip zal worden vervangen door de moderne en genderneutrale "voorzichtig en redelijk persoon".

De aanpassing kadert in de hervormingen van Koen Geens, voormalig minister van Justitie, met als doel om het Belgisch recht een modern karakter te geven.

Maar wat betekent nu de "goede huisvader"?
Je bent het vast ooit eens tegengekomen bij het huren van een woning bijvoorbeeld.
Het wordt in de rechtspraak vertaalt als de algemene zorgvuldigheidsnorm. Deze norm vereist dat bij de beoordeling van een schade, vergelijking wordt gemaakt van het gedrag van iemand die in fout is getreden, met het gedrag van een normaal redelijk persoon in dezelfde omstandigheden geplaatst. Een typisch toepassingsgebied is daarom ook het huurrecht. Hier past het beeld van de goede huisvader heel goed. Van de huurder wordt vewacht dat zij/hij het pand zal bewaren en onderhouden als een goede huisvader. Indien er oneningheid is over een bepaalde schade, wordt de, als fout beschouwd gedrag, vergeleken met deze van de goede huisvader of de redelijk en voorzichtig persoon in dezelfde omstandigheden. Deze persoon neemt immers de nodige voorzorgen om voorzienbare schade te vermijden. Er wordt ook wel eens gesproken over een normaal vooruitziend en voorzichtig persoon. En zo is er tot nu toe veel geschreven om de bonus pater familias te definiëren. De latijnse benaming mag niet verward worden met de pater familias die een bepaalde (vaderlijke) macht had in het Romeins recht, wat hier niet ter zake is.

Ik vind dat de term goede huisvader de hierboven en elders gegeven definities heel goed dekt. Ik heb het meermaals ook vervormd naar huismoeder wanneer in een bepaalde zaak de betrokken partij een vrouw was.
Over de vraag of er vele vrouwen wakker lagen van deze "symbolische kwestie" (die dateert uit de Napoleontische tijd) heb ik geen kennis, maar "voorzichtig en redelijk persoon" voelt echt niet goed aan als de goede huisvader of huismoeder. Het is misschien een kwestie van wennen.