Hoofdingrediënt van mijn pasta: Verenigde Naties
Als "un" (Turks voor bloem) vertaald wordt naar "ONU" (Frans voor Verenigde Naties) en "VN" (Verenigde Naties afgekort)
Dit is de grootste maar nog lang niet de enige blunder in de vertaling van enkele Turkse woorden naar het Nederlands en het Frans, die ik tot nu toe heb gezien.
Ik moest omvallen toen ik het vertaalde tekstje op de verpakking van een bepaald merk Turkse ambachtelijke pasta las.
Het lijkt ernaar dat men het Turkse woord "Un" ingaf, maar vergat als brontaal Turks te kiezen in plaats van Engels in Google Translate. De Franse versie van de tekst bevat ONU (Organisation des Nations Unies) en de Nederlandse versie bevat VN (Verenigde Naties).
Want hoe is dit fenomeen anders te verklaren?
Verder bevat de vertaling van de ingrediënten in zogenaamd het Frans en het Nederlands enkel Engelse woorden…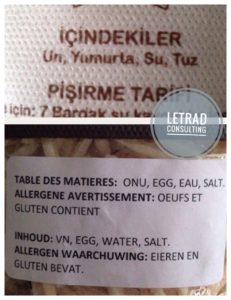 Inhoudstafel van de ingrediënten
Wat met "Table des matières" wat inhoudstafel betekent, terwijl met "içindekiler" hier "ingrediënten" of ingrediëntenlijst" wordt bedoeld?
In het Frans is dit dus allesbehalve "Table des matières".
Als ik toch maar grijp naar een verklaring van het woord kom ik in het online Larousse het volgende tegen: "Table des matières, liste des différentes parties d'un ouvrage, placée en début ou en fin de l'ouvrage." (Inhoudstafel, lijst van de verschillende delen van een werk/publicatie, geplaatst in het begin of het einde van het werk).
Zinsbouw is niet in elke taal hetzelfde
Er wordt verder geen rekening gehouden met het verschil in zinsbouw tussen het Turks en de Europese talen. Ook al is het maar 1 zin: "Alerjen Uyarısı: Yumurta ve glüten içerir."
In het Nederlands en het Frans moet de zin anders worden gevormd.
Als de brontekst fouten bevat…

Bovendien moet de tekst ook juist geschreven zijn in de brontaal als men dan toch waagt om machinevertaling te gebruiken.
Onlangs heb ik nog "deurblad" gelezen waar gewoon "portefeuille" werd bedoeld.
Dit woord viel in een communicatie tussen een Vlaming en een Waal die samen op een zoekertjessite hebben onderhandeld.
Echter was de Waalse landgenoot zo gehaast dat hij niet eens opmerkte dat zijn gesprekspartner (dus in ook in Vlaanderen) reeds het leenwoord "Portefeuille" gebruikt wat neerkomt dat hij dat woord ook niet diende te vertalen via Google Translate. Het kwaad was al geschied en de machinevertaling gaf als vertaling "Deurblad".

Zijn het nog steeds "een of twee zinnetjes"?
Een misverstand kan tot ernstige gevolgen leiden. Ziehier het voorbeeld met een voedseletiket. Een foutief of onduidelijk vertaald ingrediëntenlijst of allergenenvermelding kan de gezondheid schaden.
Bovendien volstaat het beheersen van enkel de brontaal of de doeltaal zeker niet zoals hierboven is gebleken.
Hoe goed machinevertaling ook gevorderd blijkt te zijn, de menselijke fouten zullen blijven bestaan. Ook al zijn het enkele zinnetjes die vertaald moeten worden, voorzichtigheid is zeker geboden.
Advies inwinnen van een vertaler is allesbehalve overbodig.
Heb jij ook dergelijke situaties meegemaakt of heb je vragen? Aarzel niet om hieronder je commentaar te geven.